This article is part of a series on climate change, the effects of fossil fuels, and ways towards a sustainable future.
You can make your voice heard on these issues.  Alaska's own Senator Murkowski is the Chair of the Senate Energy and Natural Resources Committee.  Tell her to act on climate change by signing our petition, sending a letter we've written, or contacting her yourself.  Her office can be reached at 202-224-6665, by mail at 709 Hart Senate Building, Washington, D.C. 20510, or through this contact form.
Activist's hold a sign proclaiming "To Change Everything it takes Everyone" at the People's Climate March. Photo: South Bend Voice
Because climate change affects not only the planet, but also the livelihood of the people who live on it, it is an issue of justice.  The effects of climate change disproportionately impact poor communities, especially minority and isolated communities, through the likes of droughts, storms, and rising seas.  The same companies that pump carbon into our atmosphere often step on the land rights of indigenous populations, driving people from their homes so they can drill for oil.  The climate justice movement aims highlight that issues of social, political and economic inequality are inseparable from our environmental issues. When people's health, homes, and livelihoods are threatened by the practices of the fossil fuel industry, when their rights as humans to exist freely in this world are being violated, it is necessary to fight not just against climate change, but for climate justice.
We can look to Ogoniland, Nigeria for a powerfully tragic case of a people who have had to struggle against an oil corporation.  For decades, Shell has drilled destructively in the Niger Delta while skirting many international safety standards, resulting in thousands of spills with a total volume of over a million tons.  Shell also practiced extensive gas flaring, wherein the natural gas byproducts of oil wells was openly burned, sending toxic chemicals like carcinogenic Benzene into the air.  Many Ogoni people were forced from their homes so that Shell could drill into their land.  By the 90s, after much damage to their air, land, and water, these people decided to take a stand against these injustices and organized into the Movement for the Survival of the Ogoni People.  Initially, the resistance was successful - Shell briefly halted its operations in Ogoniland.  Soon, however, the Nigerian military government occupied the region and arrested and hung nine leading activists on trumped up charges, despite the condemnation of the international community.  The community accused Shell of working with the government to prompt this oppression.  Documents exist to evidence this collusion, and Shell has even admitted to paying the military on two occasions.  When their human rights abuses were brought to a court years later, Shell settled a lawsuit rather than try to to contest the charges.*
Ogoni protest against Shell's practices. Photo: umich.edu
It is impossible to capture the sufferings of the Ogoni people in writing.  Theirs is a story that showcases the extents to which oil companies will go to turn a profit - that lands were poisoned and protesters murdered so the government and Shell could keep making money is gut-wrenchingly wrong.  But I do not tell this story now to shame anyone, but rather to highlight that the people's resistance was and is not futile.  In the face of extreme oppression, these people have continued their protests into the new millennium - and their actions have proved fruitful. The Ogoni have secured payments and promises of clean up from Shell in recent years.  These are only steps towards environmental and climate justice - but important ones, brought about by the actions of the people.
It is not only the illegal activities of the fossil fuel industry that harm marginalized communities.  Their fundamental business practice (extracting hydrocarbons to be burnt for energy) directly leads to climate change that is endangering people across the globe.  Glacial melting in Tajikistan has led to floods and mudslides which have forced many residents to abandon their homes.  Extreme drought in Syria made food so scarce for the poorer members of that society that it became a factor in the violent uprising that began in 2011.  Here in Alaska, coastal native villages like Shishmaref, Kivalina and Newtok are coping with the literal loss of their land as warming temperatures melt the permafrost and raise sea levels.  Marginalized communities like these have had to bear the brunt of climate change, despite the more industrialized parts of the world being far more responsible for the carbon pollution that causes it.  This is what climate injustice looks like.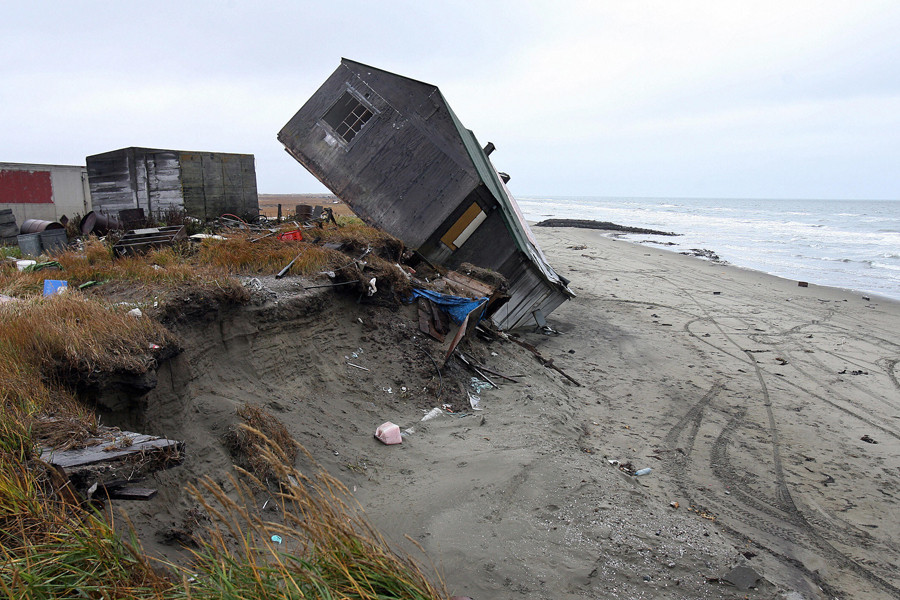 A home topples over as the shore erodes in Shishmaref.  (Photo: Gabriel Bouys/AFP/Getty Images) 
There are people standing up to these injustices throughout the world.  The Unist'ot'en clan has been actively blocking the construction of a TransCanada pipeline through their homeland for the past five years, building structures and fences to ensure this project will not go through their unceded territory.  They resist the aims of companies like Chevron in order to not only protect their own land and water, but to stop the burning of more fossil fuels which will harm the entire world.  In the Amazon rainforest, the Sarayaku people have succeeded in some of their attempts to drive off multinational oil companies trying to drill into their land.  They offer their resistance and their way of living with the land, what they call sumak kawsay, as a model for the rest of the world to avoid climate disaster.  The industrialized world is following suit in standing up to the causes of climate change and has been getting creative with its activism.  Members of Greenpeace suspended themselves from a bridge while others occupied the water in kayaks to try to prevent the passage of a ship Shell needs to drill in the arctic.  Their concerns are not only that arctic drilling could very well cause a disastrous spill, but that exploring for any more oil is incompatible with ensuring a liveable climate.  
The Unist'ot'en camp protecting their lands - the Wet'suweten territory.  Photo: unistotencamp.com
People recognize that the effects of climate change impact people unjustly and unequally, and are rising up around the world to make their voices heard.   They know that climate change is already weighing on people everywhere, and that our governments need to act now to prevent it from becoming even more disastrous.  Last year, hundreds of thousands took to the streets of New York in the largest climate action in history - the People's Climate March.  Thousands of solidarity events were held in cities on every continent besides Antarctica.  In advance of this year's UN climate change conference in Paris, more marches are aiming to break these records, gathering as many voices as possible to demand that world leaders take serious actions to halt climate change in its track and bring justice to those suffering disproportionately. Though our leaders' failures to prioritize climate justice issues can be quite discouraging, the global climate justice movement is incredibly inspiring.  You too can become a part of this movement.  Find groups or protests near you (350.org has a useful map), find ways to support those on the front lines, or organize your own action.  I'll leave you with the words of Ken Saro-Wiwa, one of the leaders of the Ogoni resistance, who wrote the following from a jail cell several months before he was executed for his role as an activist.
"Whether I live or die is immaterial. It is enough to know that there are people who commit time and energy to fight this one evil among so many others predominating worldwide. If they do not succeed today, they will succeed tomorrow. We must keep on striving to make the world a better place for all of mankind - each one contributing his bit, in his or her own way." -Ken Saro-Wiwa
*For a deeper discussion of the case of Shell in Nigeria, see this piece entitled "Pipe Dreams: Ken Saro-Wiwa, Environmental Justice, and Micro-Minority Rights".