This article is part of a series on climate change, the effects of fossil fuels, and ways towards a sustainable future.
You can make your voice heard on these issues.  Alaska's own Senator Murkowski is the Chair of the Senate Energy and Natural Resources Committee.  Tell her to act on climate change by signing our petition, sending a letter we've written, or contacting her yourself.  Her office can be reached at 202-224-6665, by mail at 709 Hart Senate Building, Washington, D.C. 20510, or through this contact form.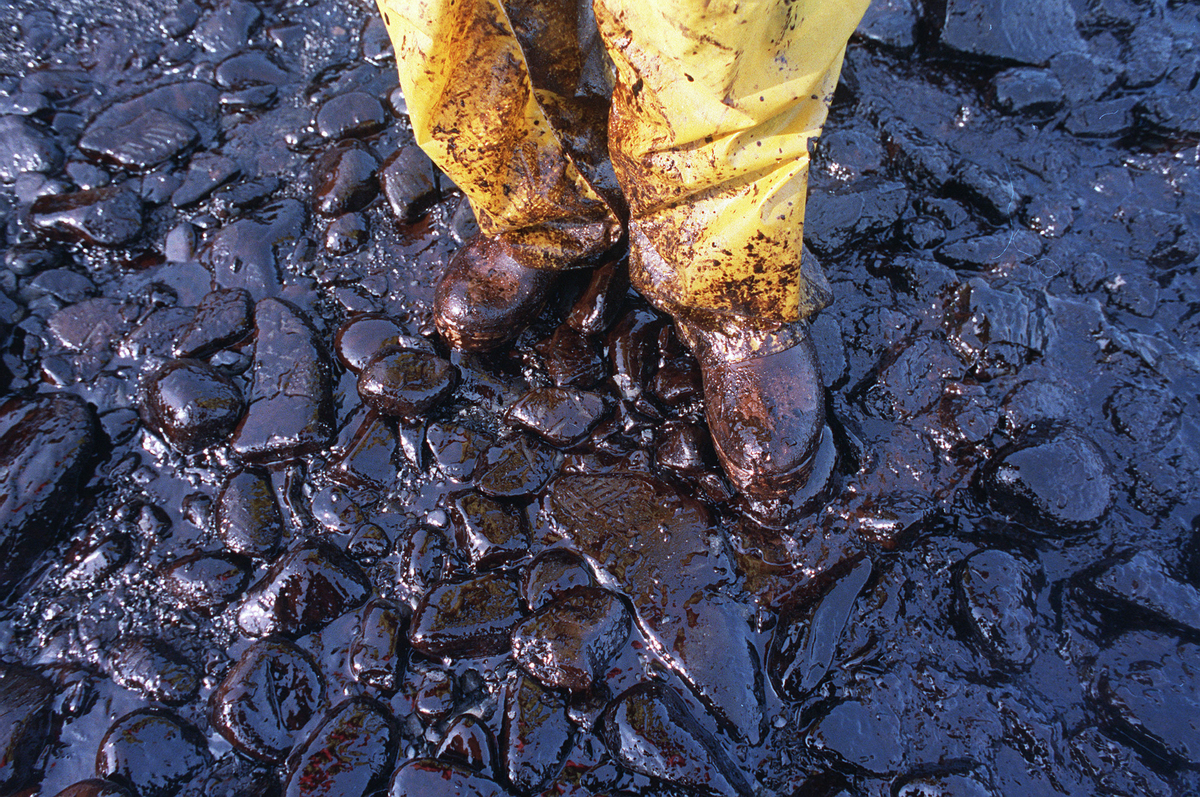 Despite the massive oil spill in 1989, Exxon has remained on good terms with the Alaskan government, and continues to drill on the North Slope. Photo: John Gap III/AP
Alaska is already feeling the heat of climate change.  Temperatures are rising here at twice the rate of the rest of the country.  Hotter summers have kindled more and more wildfires burning throughout the state, melting permafrost and further accelerating warming.  These rising temperatures are also melting glaciers, contributing to sea level rise that imperils coastal communities.  The Alaskan way of life is threatened by these changes - record-low snow falls saw the 2015 Iditarod rerouted twice, and native villages have had to change their fishing practices in response to ice break up.  As ocean acidification gets worse, fisheries across the state are sure to bear the brunt of the burden.  Yet the state government continues to share a bed, which they make nice and comfy, with the oil corporations driving this environmental degradation.  Alaska has a dangerous dependency on oil money - over 90% of the state's income comes from the oil and gas industry.  To preserve the natural beauty and resources of this great state, Alaska will have to address this dependency.  First, it must take on the power that big oil wields in its political system.
---
The politicians who rode comfortably in VECO's pockets used their political power to give tax breaks to the oil industry at large.
---
The pinnacle of oil corruption in Alaskan politics came in the early 2000s, when an FBI investigation brought 'The Corrupt Bastards Club' into the public's attention.  This club was made up of Alaskan lawmakers who routinely accepted bribes from the VECO Corporation, an oilfield services company that was acting as a sort of lobby on behalf of the oil industry.  VECO executives were caught on camera shelling out bills in exchange for votes.  The politicians who rode comfortably in VECO's pockets used their political power to give tax breaks to the oil industry at large.  Of the many involved, twelve were indicted on various charges of corruption, bribery, and failure to disclose gifts.  Some of these saw prison time while others wiggled their way out of reprimand.  Two of those who were alleged to be involved in the Corrupt Bastards Club, but were never indicted, still serve in the Alaska legislature today.  Those two are Mike Hawker and Mike Chenault, who both continue to cater to the desires of the oil industry.
Hold on - they made each other hats? Can we think for a moment about how ridiculous this is?  These corrupt politicians were so proud of their shady dealings that they had to get their own hip headwear printed up.  Couldn't they at least be ashamed of selling out their constituents for oil money?
These two are not the only ones serving big oil in Alaskan politics.  Two state Senators are employed by ConocoPhillips, one of the multinational oil giants drilling on the North Slope.  Peter Micciche, who chairs the committee dealing with the Trans-Alaska Pipeline System, gets paid six figures by Conoco.  Kevin Meyer is also on the oil giant's payroll, and chairs the Senate Finance Committee.  Both of these men had a hand in the hearings around senate bill 21, which offered tax cuts to oil companies, and both figured that their employer could use the tax relief.  These tax breaks came despite the oodles of profit Conoco was already making from Alaskan resources.  To their credit, when the vote came to the floor, both tried to recuse themselves for conflicts of interest, but objections by other senators who supported the bill forced them into voting (In the Alaska Legislature, if any one senator objects to an attempt to recuse oneself from voting, the senator must vote on the bill at hand).  The pair cast deciding votes in the 11-9 outcome, sending the bill on through the House, to eventually end up on the desk of Governor Parnell, a former Conoco lobbyist.  Parnell, too, decided that big oil could use a break.
Such tax breaks and credits, rather than creating a flourishing economy, have brought Alaska to the point where it is paying oil companies more than it is taxing them.  Projections for the current fiscal year guess that Alaska will shell out hundreds of millions more in tax credits to big oil than it will receive from tax revenue.  If that's not a broken system, I don't know what is.  This state needs to keep in mind that it is every bit as rich in renewable resources as it is in petroleum.  Alaska can lead the country towards sustainability.  This will require a government that puts the interests of the people well ahead of those of the oil companies.  Already, Alaska is taking important steps in this direction, aiming to be run on 50% renewable energy by 2025 and putting programs in place that facilitate this transition.  Equally important is the public taking a stand to say it refuses to have its political institutions corrupted by the oil industry.